(NewsUSA)

– Gender discrimination, freedom of the press, voting rights, refugees, sexual harassment, false imprisonment—mention any headline in the nightly news, and legal legend James Brosnahan has tried a case. Harvard legal giant Laurence Tribe calls him a Lion of the Law.
Now Brosnahan offers us a front-row seat in the courtroom as he goes before the bar with his memoir, JUSTICE AT TRIAL: Courtroom Battles and Groundbreaking Cases (Rowman & Littlefield Publishers).
JUSTICE AT TRIAL follows Brosnahan's career of 150 jury trials, taking us through the demanding, often controversial and suspenseful world of jury trials, tense appeals, filled courtrooms, locked jail cells, and corporate boardrooms. Each chapter follows a different case, including refugees on the Mexican border, gargantuan gender battles inside one of the largest corporations in the world, sexual taboos on national television, accusations of terrorism, government agents who cheat, innocent prisoners in jails, the constitutional right to speak and print the truth, bringing law to a war zone, poverty and murder on Native American reservations, hunger in America, and more.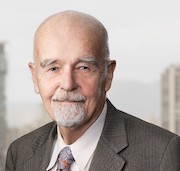 Brosnahan's love of the law emanates from every page as remembers a childhood being confined to bed for more than two years after a bout of rheumatic fever, through grade school, and into college where he found self-expression as a member of the debate team. He tells how his life dramatically changed after being accepted to Harvard Law School, finding his purpose in a career that would become an inspiration to so many in the legal field.
Brosnahan is senior counsel at Morrison & Foerster, a preeminent 1,000-lawyer international law firm based in San Francisco. For 50 years, he has lectured internationally for the National Institute of Trial Advocacy (NITA). He has authored articles for the American Constitutional Blog, Law 360, The California Historical Society, The Daily Journal (California's legal paper), the New York Times, Bloomberg Law, and the Los Angeles Times. He has appeared on national radio and television including ABC, CNN, Fox News, Larry King, National Public Radio, and PBS.
Says Wendy McCormack, Executive Director of the National Institute for Trial Advocacy: "Jim is the very definition of a trial lawyer, whose very strong belief in the legal system is reflected in all he does. He is an advocate for the rights covered under the constitution. He is a fantastic trial advocacy teacher and a wonderful storyteller. He is respected and admired by all."
"For more than a half century, Jim Brosnahan has been one of the greatest and most courageous lawyers in the United States. Jim Brosnahan is in the California Trial Lawyers Hall of Fame, deservedly," adds Erwin Chemerinsky, Dean, UC Berkeley School of Law.
JUSTICE AT TRIAL shares the excitement of the courtroom, the justice system's defects, the reforms lawyers seek, and the risks trial lawyers take. It's a life of towering achievement that will inspire anyone who respects the law. To learn more, visit www.jimjbrosnahan.com.