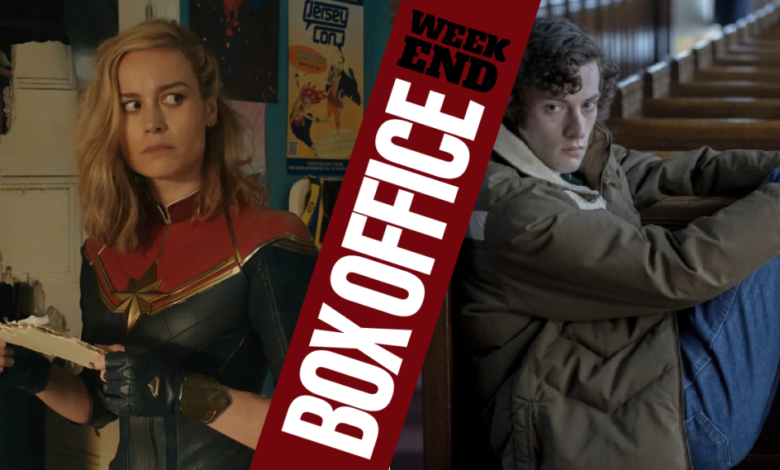 Disney/Marvel's The Marvels failed to get off the ground in its debut weekend, collecting a meager $47 million at the domestic box office. The pic ranks as the lowest opening for an MCU film to date, falling short of The Incredible Hulk's $55M opening in 2008. Yikes!
Worldwide, the Brie Larson superhero epic grossed just $110M. With a production budget said to be north of $200M, this obviously doesn't bode well for the once mighty Marvel Studios. Where did it all go wrong? Deadline posits that audiences grew weary of the brand due to the numerous TV shows and films over the years, many of which fell way short in quality. Others believe superhero fatigue is the culprit.
No matter the cause, hopefully, the studio can right the ship in the future and get back to making the type of must-see fare that led to so much box office success a mere four years ago.
Other notables this weekend include A24 and Sofia Coppola's Pricilla, which earned $4.8M (-4%) in its second weekend and has earned $12.7M in limited release. Alexander Payne's (really good) The Holdovers expanded into 778 theaters and hauled in $3.2M, raising its cume to $4.27M. The pop musical Journey to Bethlehem managed just $2.42M in 2,002 theaters but earned an A- CinemaScore.
This weekend sees the release of The Hunger Games prequel, The Ballad of Songbirds & Snakes, Trolls Band Together, and the horror film Thanksgiving. Will any of these offerings boost the box office?
DOMESTIC TOP 10
Per Deadline
1.) The Marvels (Dis) 4,030 theaters, Fri $21.5M Sat $15.3M Sun $10.2M 3-day $47M/Wk 1
2.) Five Nights at Freddy's (Uni) 3,694 (-95) theaters, Fri $3M (-45%) Sat $3.8M Sun $2.1M 3-day $9M (-53%), Total $127.2M/Wk 3
3.) Taylor Swift: Eras Tour (AMC) 2,848 (-756) theaters, Fri $1.9M (-47%) Sat $2.3M Sun $1.7M 3-day $5.9M (-57%)/Total $172.5M/ Wk 5
4.) Priscilla (A24) 2,361 (+1002) theaters, Fri $1.6M (-18%) Sat $1.6M Sun $1.7M 3-day $4.8M(-4%), Total $12.7M/Wk 3
5.) Killers of the Flower Moon (Apple/Par) 3,357 (-429) theaters Fri $1.5M (-23%) Sat $1.89M Sun $1.26M 3-day $4.65M (-32%)/Total $59.9M/Wk 4
6.) The Holdovers (Foc) 778 (+714) theaters Fri $1.23M (+510%)/Sat $1.2M Sun $750K 3-day $3.2M (+463%), Total $4.27M/Wk 3
7.) Journey to Bethlehem (Sony) 2,002 theaters Fri $1M Sat $774K Sun $626K 3-day $2.42M /Wk 1
8.) Tiger 3 (Yash Raj) 750 theaters, Sat $1M Sunday $1.25M 3-day $2.25M (estimate here comes from Comscore)
9.) Paw Patrol 2 (Par) 1,779 (-625) theaters, Fri $545K (+29%) Sat $720K Sun $495K 3-day $1.76M (-13%) Total $64.5M/Wk 7
10.) Radical (Pant) 534 (+115) theaters, Fri $472K (-47%) Sat $655K Sun $625K 3-day $1.75M (-34%)/Total $5.2M/Wk 2
11.) Exorcist: The Believer (Uni) 1,587 (-842) theaters Fri $380K (-38%) Sat $500K Sun $270K 3-day $1.15M (-45%) Total $64.99M/Wk 6
The post Box Office Results: The Marvels Fails to Ignite appeared first on ComingSoon.net – Movie Trailers, TV & Streaming News, and More.