National News
Ukrainian President Zelenskyy denies Russian claim of capture of Bakhmut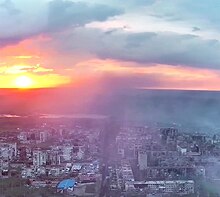 Tuesday, May 23, 2023 
On Sunday, Ukrainian President Volodymyr Zelenskyy told press at the G7 summit in Hiroshima, Japan the eastern Ukrainian city of Bakhmut at the epicenter of the ongoing war there remained contested, despite Russian claims to occupy it: "We are keeping on, we are fighting."
Through an interpreter, Zelenskyy declared in Ukrainian: "We are not throwing people [away] to die […] People are the treasure. I clearly understand what is happening in Bakhmut. I cannot share with you the technical details of what is happening with our warriors."
It comes after Yevgeny Prigozhin alleged Saturday in a Telegram video his pro-Russian mercenary Wagner Group had captured Bakhmut around noon. Prigozhin, with several troops surrounding him and destroyed buildings behind, spoke over fire: "We fought not only with the Ukrainian armed forces in Bakhmut. We fought the Russian bureaucracy, which threw sand in the wheels."
In response, Ukraine's deputy defense minister Hanna Malyar said while "the situation is critical", fighting continued: "our defenders control certain industrial and infrastructure facilities in the [Bakhmut] area and the private sector" and Kyiv's troops had "took the city in a semi-encirclement."
She said: "The enemy failed to surround Bakhmut, and they lost part of the dominant heights around the city […] the advance of our troops in the suburbs along the flanks, which is still ongoing, greatly complicates the enemy's presence in Bakhmut."
Earlier, in statements in English Zelenskyy's press secretary later retracted, Ukraine's president said on whether Bakhmut had fallen: "I think no, but you have [to] understand that there is nothing, they've destroyed everything. There are no buildings. It's a pity. It's tragedy.
"But, for today, Bakhmut is only in our hearts. There is nothing on this place […] just ground [and] a lot of dead Russians."
A representative for the Ukrainian Eastern Group of Forces, Serhii Cherevatyi, commented: "The president correctly said that the city has, in fact, been razed to the ground"; however, the "enemy is being destroyed every day by massive artillery and aviation strikes, and our units report that the situation is extremely difficult. Our military keep fortifications and several premises in the southwestern part of the city. Heavy fighting is underway."
Hours before Zelenskyy's counterclaim Sunday, Russian President Vladimir Putin issued a statement praising "Wagner assault detachments, as well as all servicemen of the Russian Armed Forces units, who provided them with the necessary support and flank protection, on the completion of the operation to liberate Artyomovsk [​Soviet-era name for Bakhmut, after a communist militant]," according to state media outlet TASS.
The Washington, D.C., US-based Institute for the Study of War assessed Russia's declared capture of Bakhmut was "not tactically or operationally significant" as it "does not grant Russian forces operationally significant terrain to continue conducting offensive operations" or "to defend against possible Ukrainian counterattacks."
Other analysts the Associated Press (AP) mentioned said Bakhmut's fall may grant Moscow certain a tactical edge, it wouldn't be the watershed moment for the end of the war.
Nevertheless, Zelenskyy told the AP in March if Russia captured Bakhmut, they could convince the international community to back a compromise settlement to the war which Ukraine couldn't accept.
Russian troops started attacking Bakhmut in August but were initially repulsed. In January, Russia took Soledar, another salt-mining town to its north.
Earlier this year, a NATO official estimated for CNN Russia's fatality rate in Bakhmut was five times Ukraine's. The eight-month long battle for "fortress Bakhmut", 34 miles (55 km) north of regional capital Donetsk, saw forces expending thousands of rounds of ammunition a day and the civilian population fall from a pre-war 70,000 to under 4,000 in March.
Ukrainian sources said Wagner "marched on the bodies of their own soldiers", while Prigozhin called it a "meat grinder". In April, videos circulated on social media allegedly depicting Russian soldiers beheading Ukrainian soldiers in Bakhmut, prompting Ukrainian Foreign Minister Dmytro Kuleba to call for "Russian terrorists"' expulsion from the UN.
During his speech Sunday, Zelenskyy said historical images of destruction in Hiroshima "really remind" him of Bakhmut. During World War II, the Japanese city was the target for the world's first atomic bombing.
Also during the summit, Zelenskyy held a press conference with US President Joe Biden, heralding the latter's pledge for an additional $375 million in aid for Ukraine, including artillery, ammunition, and vehicles. On Twitter, Zelenskyy said: "I thanked him for the significant financial assistance to [Ukraine] from [the US]."
Earlier, the US announced Ukrainian forces could train on its F-16 fighter jets, in what the AP saw as a prelude to the US shipping F-16s to Ukraine; Biden described Zelenskyy offering a "flat assurance" Ukraine would not deploy the jets over Russia.
Before the war, Bakhmut was a tourist site manufacturing sparkling wine in underground caves and mining salt and gypsum.
Related news
[
edit
]
Sister links
[
edit
]
Sources
[
edit
]