Entertainment
Box Office Results: M3GAN Exceeds Expectations, Avatar Continues Ascent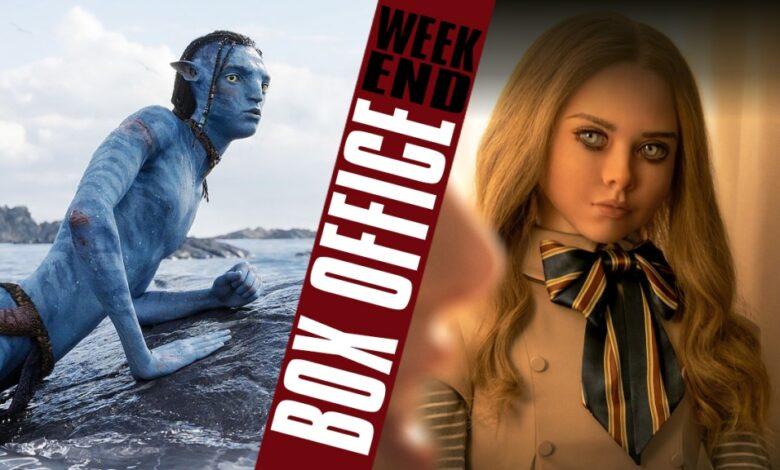 In a surprising twist, the Blumhouse thriller M3GAN proved quite formidable at the January box office, pulling in a terrific $30.2 million in its debut weekend after posting an $11.7 million Saturday, per Deadline. Another example of why studios continue to count on low-budget horror films (M3GAN was produced for just $12 million) for easy cash.
Elsewhere, Avatar: The Way of Water continued its stellar run up the charts. The pic exceeded expectations in its fourth weekend, accruing an astonishing $45M million to raise its domestic haul to $516.7 million. James Cameron's epic hit the half-billion mark in 23 days, faster than Rogue One: A Star Wars Story and Top Gun: Maverick, who each took 32 days to achieve the same total.
Globally, the long-awaited sequel has netted a massive $1.7 billion and is just $208 million away from overtaking Spider-Man: No Way Home ($1.9B). Never doubt James Cameron, folks. By comparison, the original Avatar grossed $50M in its fourth weekend domestically, while The Force Awakens nabbed $42 million (en route to a $936M domestic total), and Spidey swung to $32 million. How high will The Way of Water fly? Your guess is as good as mine.
Meanwhile, the Tom Hanks drama A Man Called Otto reaped in $4.2 million from 637 theaters and will continue its expansion in the weeks ahead, while Marvel's Wakanda Forever continues its leggy run, adding $4.2M in Week 9 to bring its domestic total to $445.4M.
Still, the best news about this weekend is how closely it resembled pre-Pandemic times. Around this time in 2020, before you know what hit the fan, 1917 led the way with $39.2M in its third weekend (the film's first in wide release, if I'm not mistaken), while The Rise of Skywalker and Jumanji: The Next Level enjoyed fourth and fifth weekends of $15.05M and $14M, respectively. Obviously, times have changed, and esteemed pictures such as Babylon ($13.5M domestically thus far) and I Wanna Dance With Somebody ($19.6M) continue to need help finding an audience. Even so, this week's numbers are promising.
Box Office Results: Domestic Top 10
1.) Avatar 2 (Dis) 4,340 (+138) theaters Fri $11.4M, Sat $20.6M, Sun $12.95M, 3-day $45M (-33%), Total $516.7M/Wk 4
2.) M3GAN (Uni) 3,509 theaters Fri $11.7M, Sat $11.7M, Sun $6.8M 3-day $30.2M/Wk 1
3.) Puss in in Boots 2 (Uni) 3,919 (-202) theaters Fri $3.3M Sat $5.9M Sun $3.8M 3-day $13.1M (-22%)/Total $87.7M/Wk 3
4.) A Man Called Otto (Sony) 637 (+633) theaters, Fri $1.5M Sat $1.6M Sun $1M 3-day $4.2M (+7366%) Total $4.285M/Wk 2
5.) Wakanda Forever (Dis) 2255 (-55) theaters Fri $968K Sat $1.4M Sun $951K 3-day $3.39M (-34%) Total $445.4M/ Wk 9
6.) I Wanna Dance With Somebody (Sony) 3184 (-441 theaters) Fri $700K Sat $1M Sun $615K 3-day $2.4M (-39%) Total $19.6M/ Wk 3
7) The Whale (A24) 835 (+212) theaters Fri $423K Sat $638K Sun $479K 3 day $1.5M (+9%) Total $8.5M/Wk 5
8.) Babylon (Par) 2,381 (-970) theaters Fri $430K Sat $625K Sun $375K 3 day $1.4M (-45%) Total $13.5M/Wk 3
9.) Violent Night (Uni) 1,981 (-582) theaters Fri $210K Sat $330K Sun $200K 3-day $740K (-65%) Total $49.4M/Wk 6
10.) The Menu (Sea) 800 (-60) theaters, Fri $211K Sat $309K Sun $193K 3-day$713K (-35%) Total $37.6M Wk 8
The post Box Office Results: M3GAN Exceeds Expectations, Avatar Continues Ascent appeared first on ComingSoon.net – Movie Trailers, TV & Streaming News, and More.