Entertainment
Back 4 Blood Expansion 2 Adds New Campaign, Cultist Enemies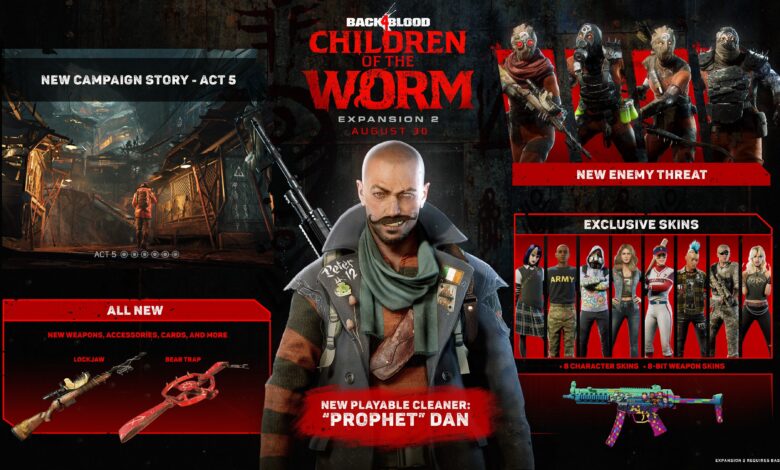 Turtle Rock Studios is not done with its co-op zombie shooter Back 4 Blood. The studio has unveiled the second premium expansion pack for the game, which is called Children of the Worm. This content drop is set to arrive for the game on August 30, 2022.
RELATED: Back 4 Blood: Tunnels of Terror Review: Dive Into the Ridden Hive
This expansion pack is introducing an all-new set of human enemies, The Children of the Worm. These cultist-like enemies seem every bit as menacing as they look, as they are dressed in creepy-looking outfits and holding a variety of weapons, including guns, a bow and arrow, poison jars, and what looks to be metal claws fashioned to their hands. They will also be the game's first human enemies.
Alongside the new enemies, a new campaign story — Act 5 — will arrive in the game, giving players the chance to continue exploring the ongoing lore of Back 4 Blood. The Children of the Worm will tie into the DLC chapter in some way, although it's unknown exactly what the campaign will have in store for players when it drops.
"Prophet" Dan, the DLC's new playable character, is also one of its bigger additions. This new Cleaner seems to be of Irish descent given all the pins and patches on his jacket, and sports a sinister look as well as an impeccably styled mustache. However, Turtle Rock did not reveal what kinds of abilities he will have. There's also no trailer showcasing Dan or the new levels in action, but that will undoubtedly come at a later date.
RELATED: Back 4 Blood Details First Major Expansion, Celebrates 10 Million Players
Of course, it wouldn't be an expansion pack without a variety of new things to play with as well. Children of the Worm also has a variety of gameplay-related accessories, cards, and weapons including the Lockjaw rifle and a Bear Trap, well, trap. It also has its share of cosmetic inclusions, too, as seen in the eight new character skins and 8-bit-themed weapon skins in case players want to brighten up your zombie surviving. The character skins, as shown in the above picture, don't seem to have a cohesive theme like the weapon cosmetics.
The post Back 4 Blood Expansion 2 Adds New Campaign, Cultist Enemies appeared first on ComingSoon.net.