National News
Finnish President, Prime Minister announce support for joining NATO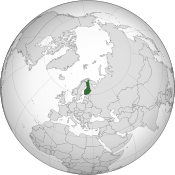 Saturday, May 14, 2022 
Finnish President Sauli Niinistö and Prime Minister Sanna Marin Thursday issued a joint statement declaring "Finland must apply for NATO membership without delay", making it likely Finland will seek to join the military alliance imminently.
After the Winter War and Continuation War between Finland and the Soviet Union in the 1940s, successive leaders avoided joining NATO and opted to maintain neutrality. However, public opinion changed following the Russian invasion of Ukraine: in a joint press conference with Swedish Prime Minister Magdalena Andersson last month, Marin said the nation would decide on whether to apply for NATO membership "within weeks". A Yle poll from this week showed 76% support among Finns for joining the military alliance.
The joint statement from Niinistö and Marin read in part: "now that the moment of decision-making is near, we state our equal views, also for information to the parliamentary groups and parties. NATO membership would strengthen Finland's security." The two leaders added their hope that "the national steps still needed to make this decision" would be made "rapidly within the next few days".
A reply from Russian Ministry of Foreign Affairs read: "Helsinki must be aware of the responsibility and consequences of such a move", and Russia would have to take "retaliatory steps, both of a military-technical and other nature, in order to stop threats to its national security arising".
The announcement from Niinistö and Marin was made a day after a co-operation agreement was signed that pledged the United Kingdom to defend Finland and Sweden in case either was attacked. In a press conference to announce the deal Wednesday, Niinistö said that Russia was "ready to attack a neighboring country", and that if Russia were to be concerned about Finland joining NATO, he would respond "you caused this, look in the mirror."
The Social Democratic Party of Finland, led by Marin, is likely to announce their position on NATO membership tomorrow. Politico reported the party was "almost certain to favor membership". It would then be possible for Finland to join the alliance as soon as Monday. Jens Stoltenberg, the Secretary-General of NATO, has previously stated the military alliance would welcome both Finland and Sweden, and that he expected an accession to be fast and without complications. Estonian Prime Minister Kaja Kallas said Thursday that a Finnish entry into NATO would Estonia's "full support", adding "we support a rapid accession process."
Sources
[
edit
]