National News
North Korean leader Kim Jong Un inaugurates the "Defence Development Exhibition 'Self-Defence-2021′"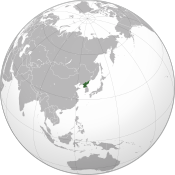 Wednesday, October 13, 2021 
On Monday, on the 76th anniversary of the ruling Workers' Party of Korea's founding, North Korean leader Kim Jong Un inaugurated a new weapons exhibition in Pyongyang. The Three-Revolutions Exhibition House housed the event, which was reported by party newspaper Rodong Sinmun the next day.
The ceremony started outside the exhibition house when Kim Jong Un arrived. Attendees, mainly military officers, party officials and defence industry personnel greeted Kim with cries of "Manse!" (Long Live!). High-ranking party officials Choe Ryong Hae, Jo Yong Won and Hyon Song Wol, premier Kim Tok Hun, Marshal Pak Jong Chon and Kim Jong Un's sister Kim Yo Jong were also present.
The military band of the Korean People's Army (KPA) and the Orchestra of the State Affairs Commission of the DPRK performed, playing songs about the party. Then a KPA unit demonstrated martial arts skills, such as breaking bricks and tiles with bare fists, bending steel bars with the sternum and jumping over cars. A jet squadron then flew past over the grounds, rendering the North Korean flag with coloured smoke on the sky.
After the ceremony, Kim Jong Un said a speech inside, remarking that "the US tacit sponsorship continue to damage the inter-Korean feelings and emotions" and that "South Korea has been unhesitant on several occasions in disclosing its ambition for securing military supremacy over us under the preposterous excuse of deterring threat from us". He called for the country to be "powerful also for our coming generations", the nation's "first and foremost task", and called upon the people to devote themselves to the defence capabilities of the country.
An award ceremony for servicepersons and others followed with high decorations handed over, including the Kim Il Sung and Kim Jong Il Orders, the Kim Il Sung and Kim Jong Il Prizes, the title of Labour Hero, the Order of the National Flag and watches signed with the named of Kim Il Sung and Kim Jong Il.
The exhibition featured missiles, including editions 14, 15 and 16 of the Hwasong ICBM series.
After touring the exhibition, Kim Jong Un met with the jet pilots who performed earlier, then left in a limousine.
Sources
[
edit
]